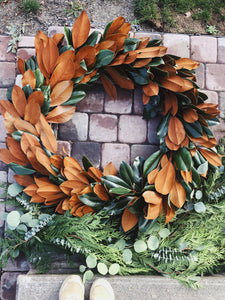 Our Magnolia Wreath is a luxurious and beautiful addition to any space.
Floralista carefully entwines fresh magnolia branches together, creating an eye-catching holiday decoration for your front door or indoor display.  
Not only does Magnolia look stunning fresh, but it also looks amazing when it dries too! 
Dimensions: 28-36" (approx.)
NOTE: All wreaths are made with the finest seasonal materials with a preference for local and specialty flowers and foliage. Each wreath is unique and the designer's choice. We welcome design requests, but cannot guarantee specific materials.
Please allow up to 4 business days to prepare your custom garland, and select that future date in the cart checkout. 
For custom wreath orders please call the shop. 

How long will it last?
Indoors:  A wreath will dry out quickly in a warm house, especially above a fireplace mantle.  However, magnolia dries out nicely. Spritzing with water daily will help your wreath last longer.  
Outdoors: A wreath will last a long time outdoors, where it is cool and moist.