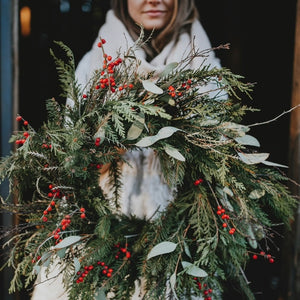 Floralista Winter Wreath Workshop - Open registration 

DATE: Sunday Dec 17th, 2021
TIME: 11am-1pm

Join us for a Floralista Wreath Workshop at our Flower Studio in Fort Langley.
This fun workshop is for anyone who's dreamed of making your own wreath and is interested in the technique behind turning abundant local evergreens into beautiful designs, or simply experiencing a fun evening of holiday creativity at the Floralista HQ - this will be inspiration beyond compare!

We'll be sourcing all the best materials for you to make your wreath from.....imagine beautiful and fragrant evergreen branches like cedar, pine, fir, and hemlock as well as specialty imported greens like eucalyptus, magnolia, olive, and grevillea just to name a few.  
Your teacher Alice and the Floralista Team will demonstrate and then guide you through all the steps to make your very own wreath.
If you love the Holidays, invite somebody to enjoy this with you!
Light refreshments will be served and holiday music is guaranteed!
All skill levels welcome.
COST:  $175 + tax.
Limited to 8 people.  If you are registering with a group please mention the names within the group so we can put you together. 
Cancellation: Non-refundable. Please let us know if you cannot make it last min and need to transfer your ticket to somebody else.
Location: 9140 Glover Road, Unit #110, Fort Langley (Back half of the Coast Capital Bank building)
Photo by the Godards Photography