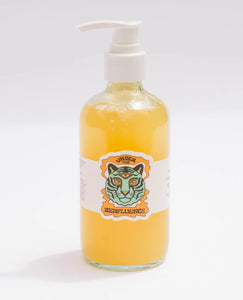 Created to cleanse and soothe with zenful botanicals believed through history to raise your vibration, offer meditative relaxation and comfort. 
Use all over body and enjoy the fluffy aromatic suds. 
INGREDIENTS: Organic Saponified Coconut Oil, Jojoba Oil and Olive Oil, Vegetable Glycerin, Organic Aloe Vera, Organic Essential Oils of Hinoki, Lemongrass, Hawaiian Sandalwood and Petitgrain Sur Fleurs, Guar Gum and Rosemary Extract.